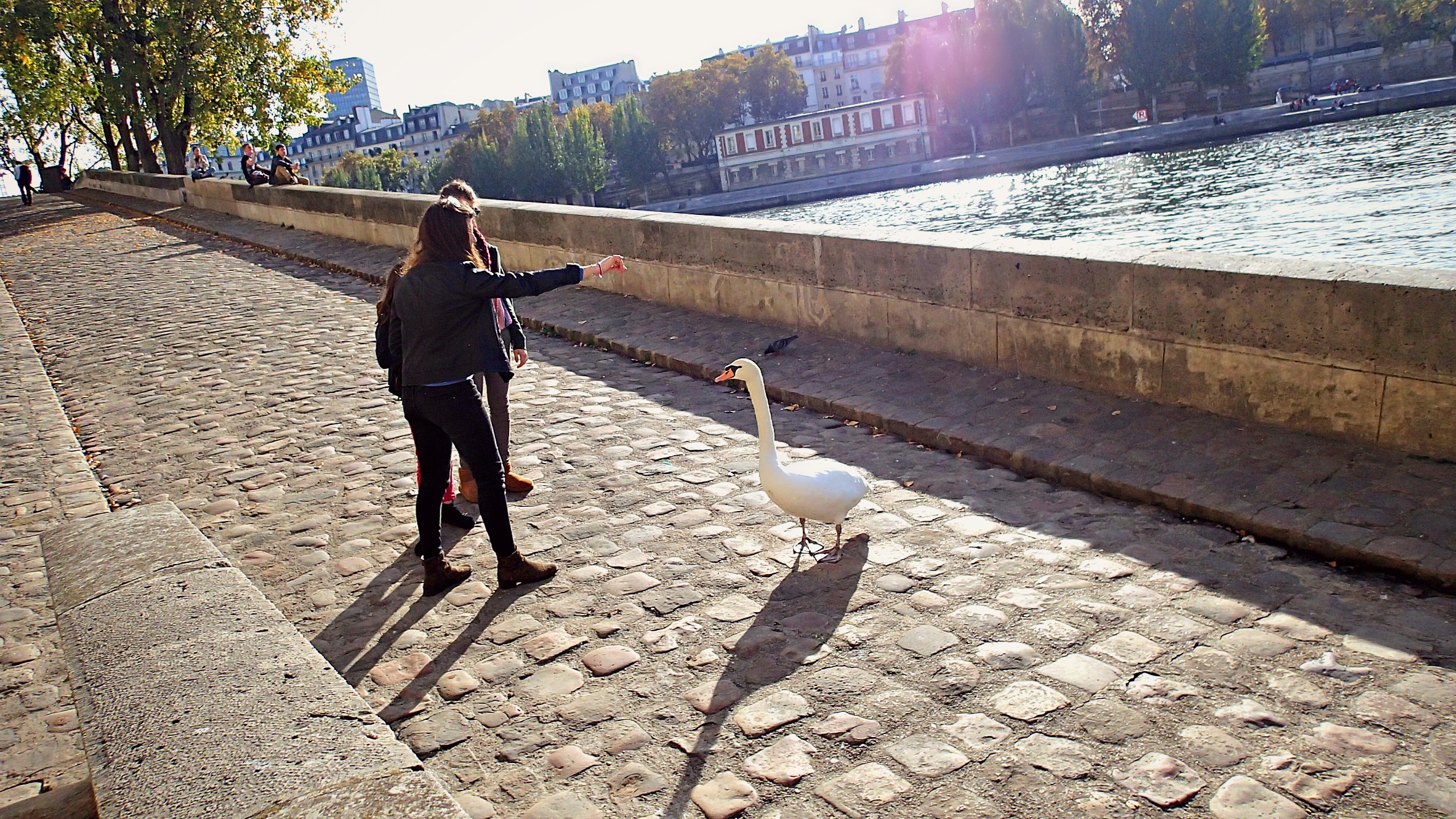 I know there are so many parts to this « Day One in Paris », but I did so much in one day, and if I shove it all into one post, it'll make your head explode. I can't promise there won't be a part four after this part three.
Let's see, we left off when I was down by the river.
I don't know how many times I went back and fourth over the river, but somehow I landed on the other side again. I saw this little boat ramp that led to the water; it had a stairway at the end leading back up to the main road, so I walked it.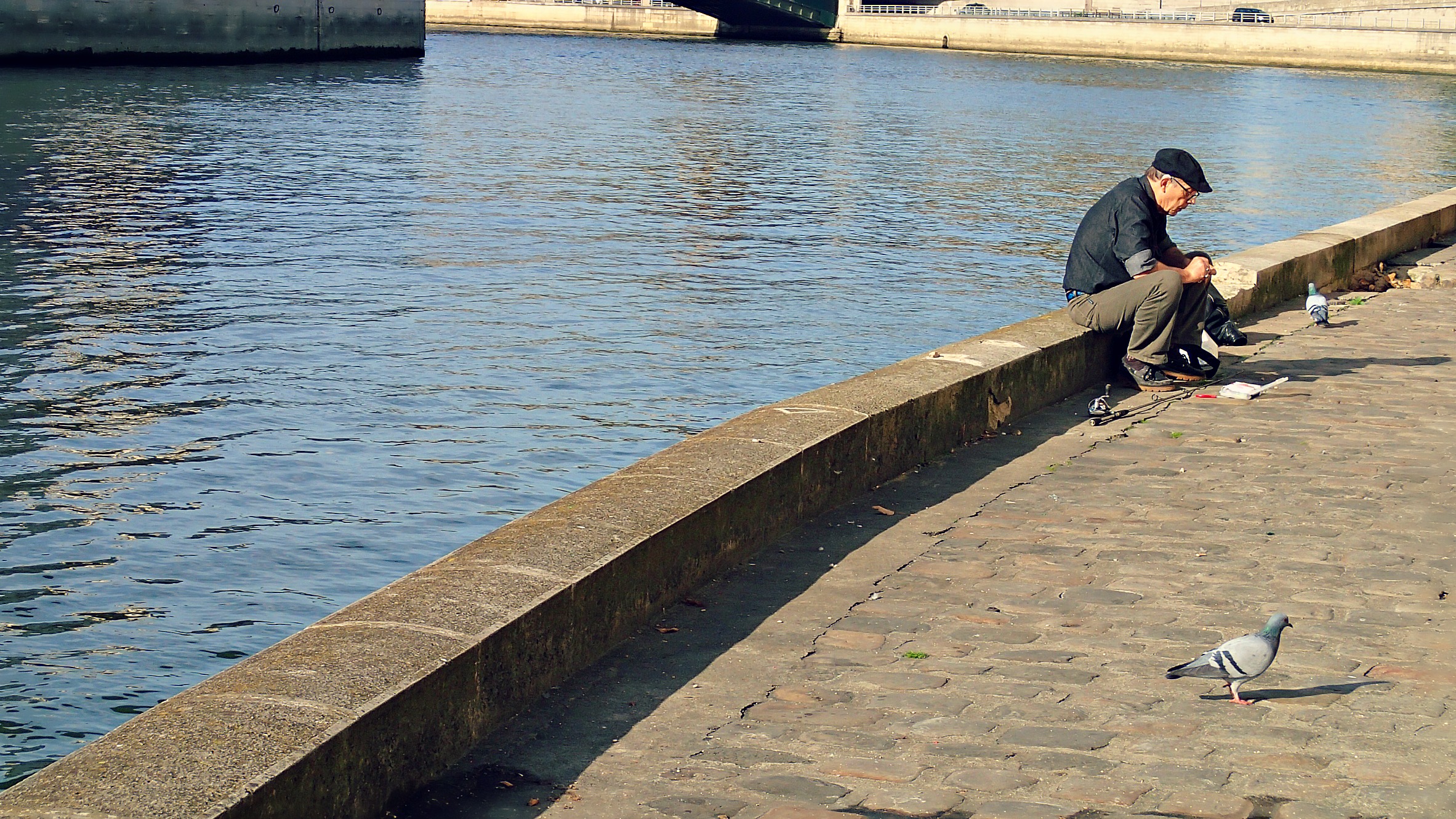 I must say, I'm shocked at how the pigeons are so tame here. In the States, you can't walk by a bird without it flying away. Here, you can stand right next to it as if it was your friend. I had one sit next to me on the bench while I was eating my crepe.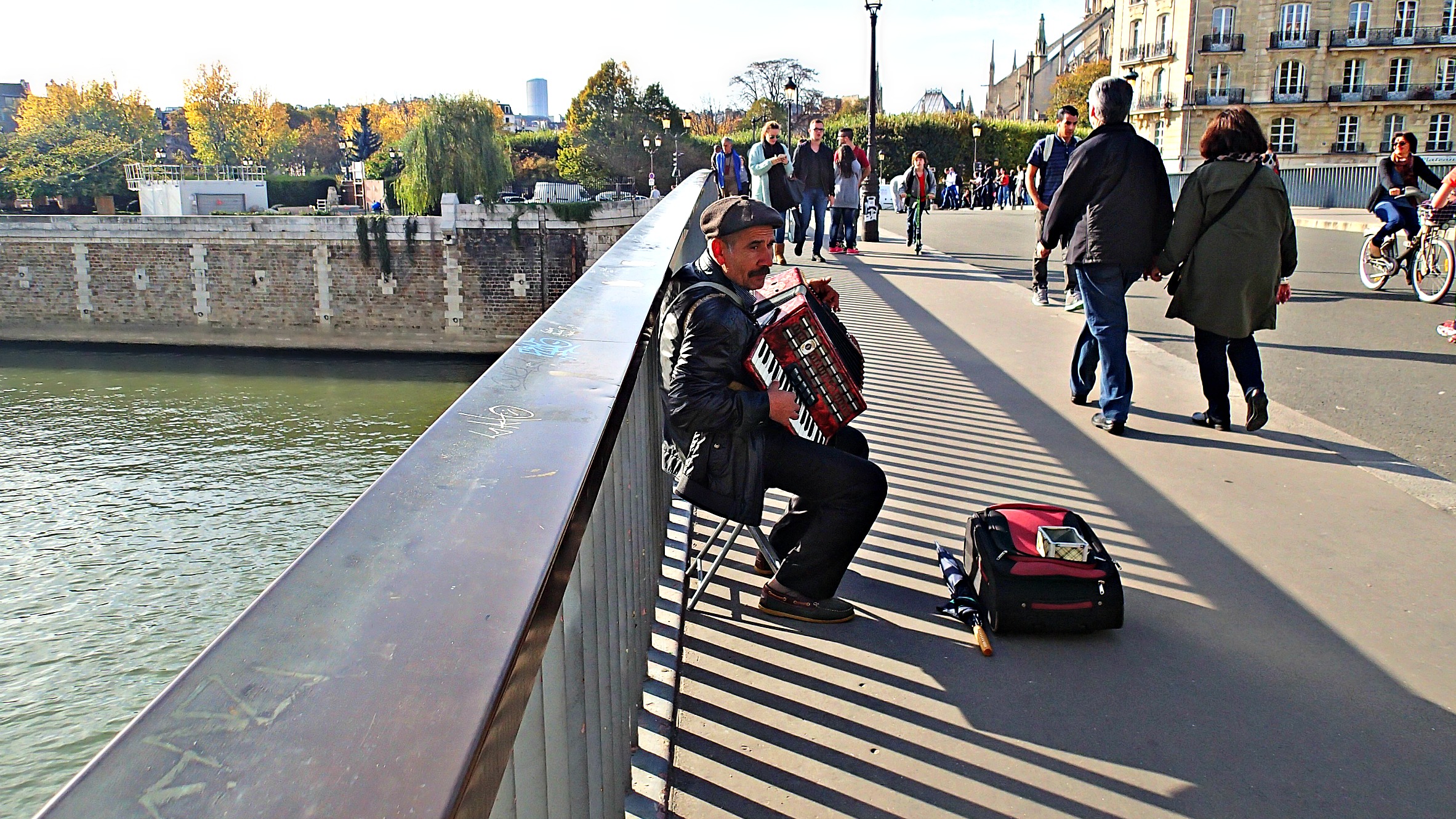 Have you ever seen a romantic movie where they are walking in Paris, and there is street music in the background? I used to think that was just Hollywood's perspective on France, but no! You hear it everywhere. So much jazz! It gives Paris a relaxed and romantic mood. I always keep euros in my pockets for them. Keep the music alive.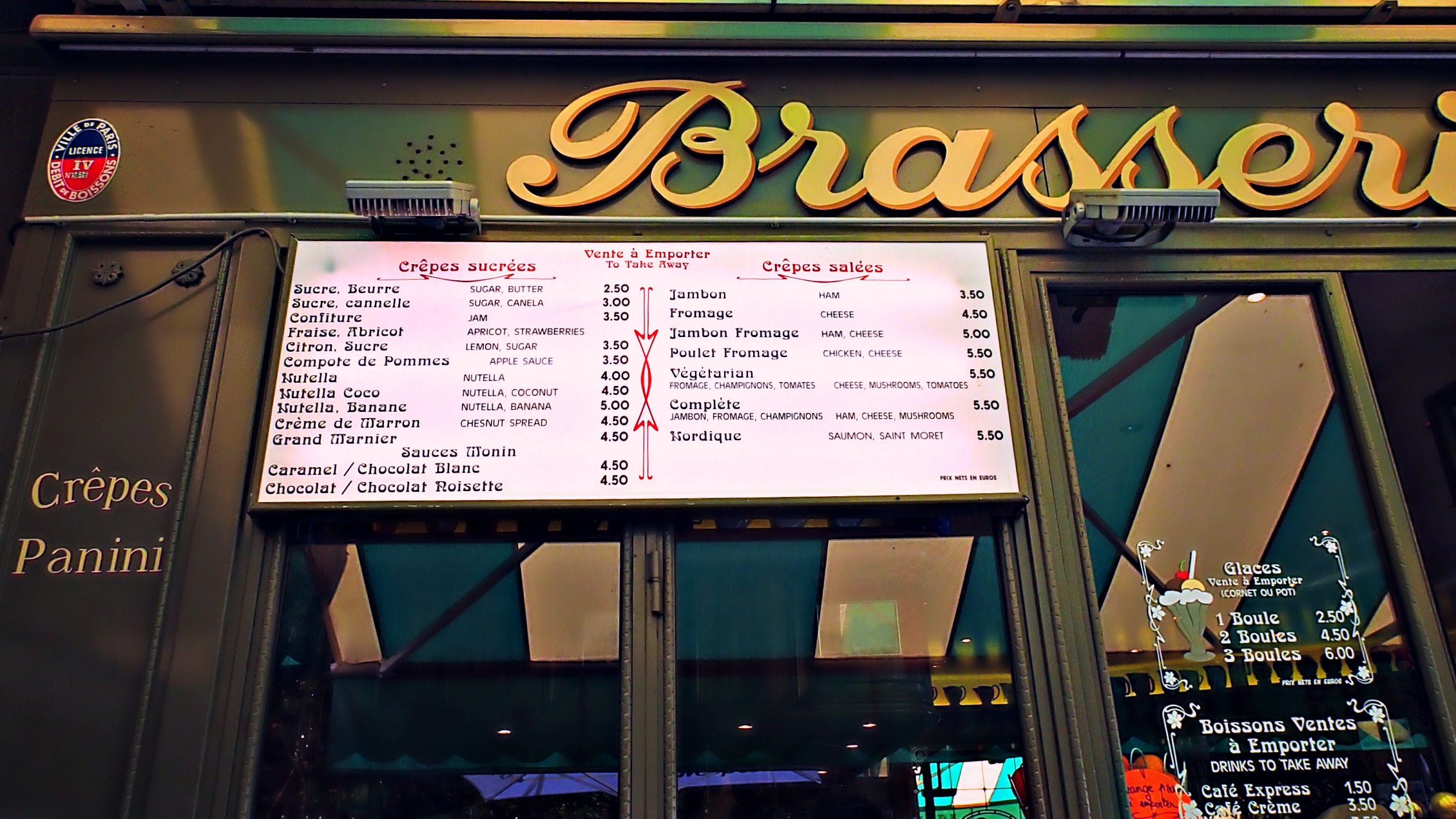 Finally, I found a place to get a crepe. You won't have a hard time finding crepes in Paris; they're everywhere.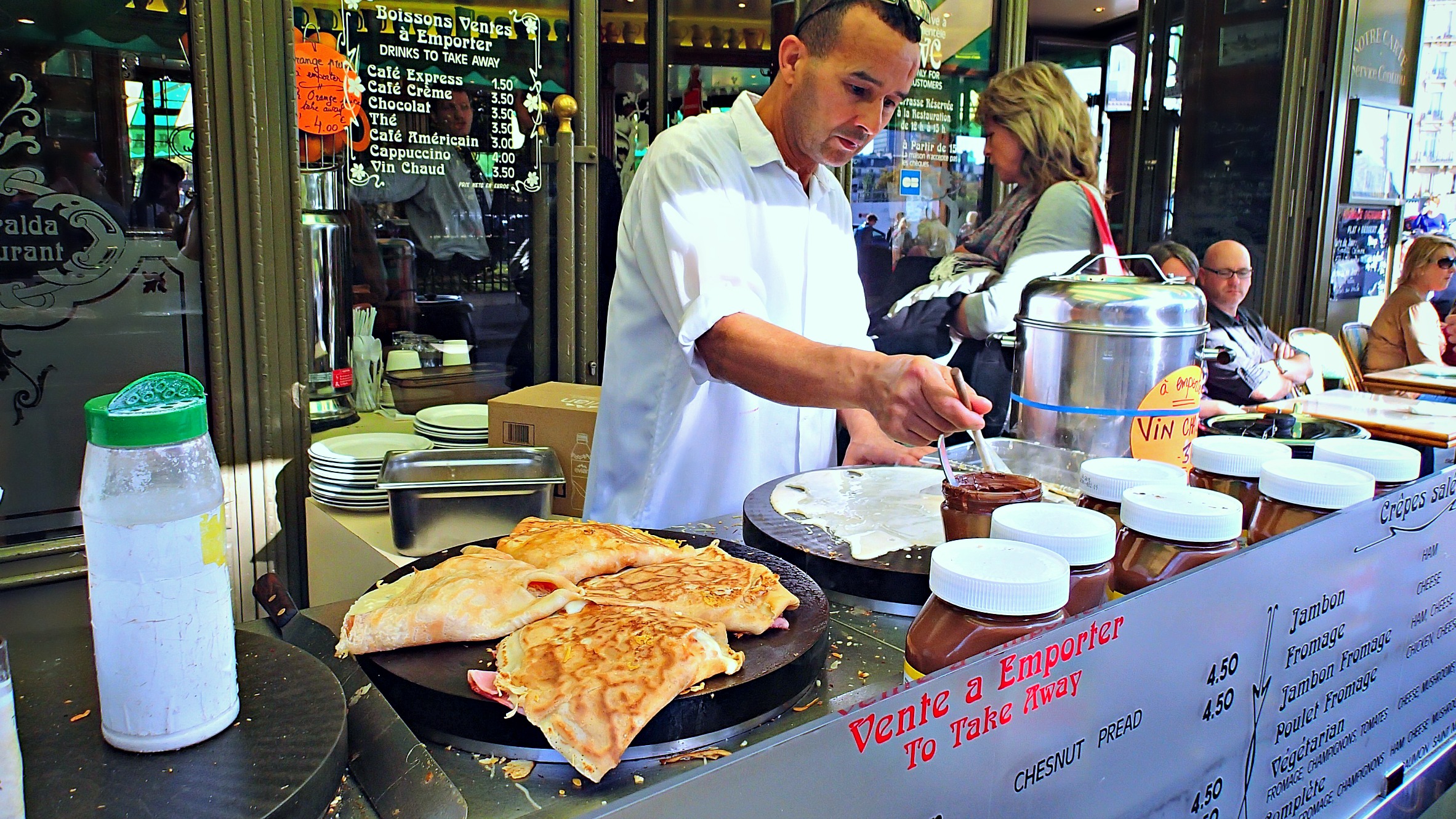 I ordered the fraise et Nutella Crêpe. (strawberry and Nutella Crepe.) He was singing to me as he was making my crepe and it was hilarious. It went something like « sizzle sizzle shoombazzzizlle shook babababaa. » It sounded better when he was singing it.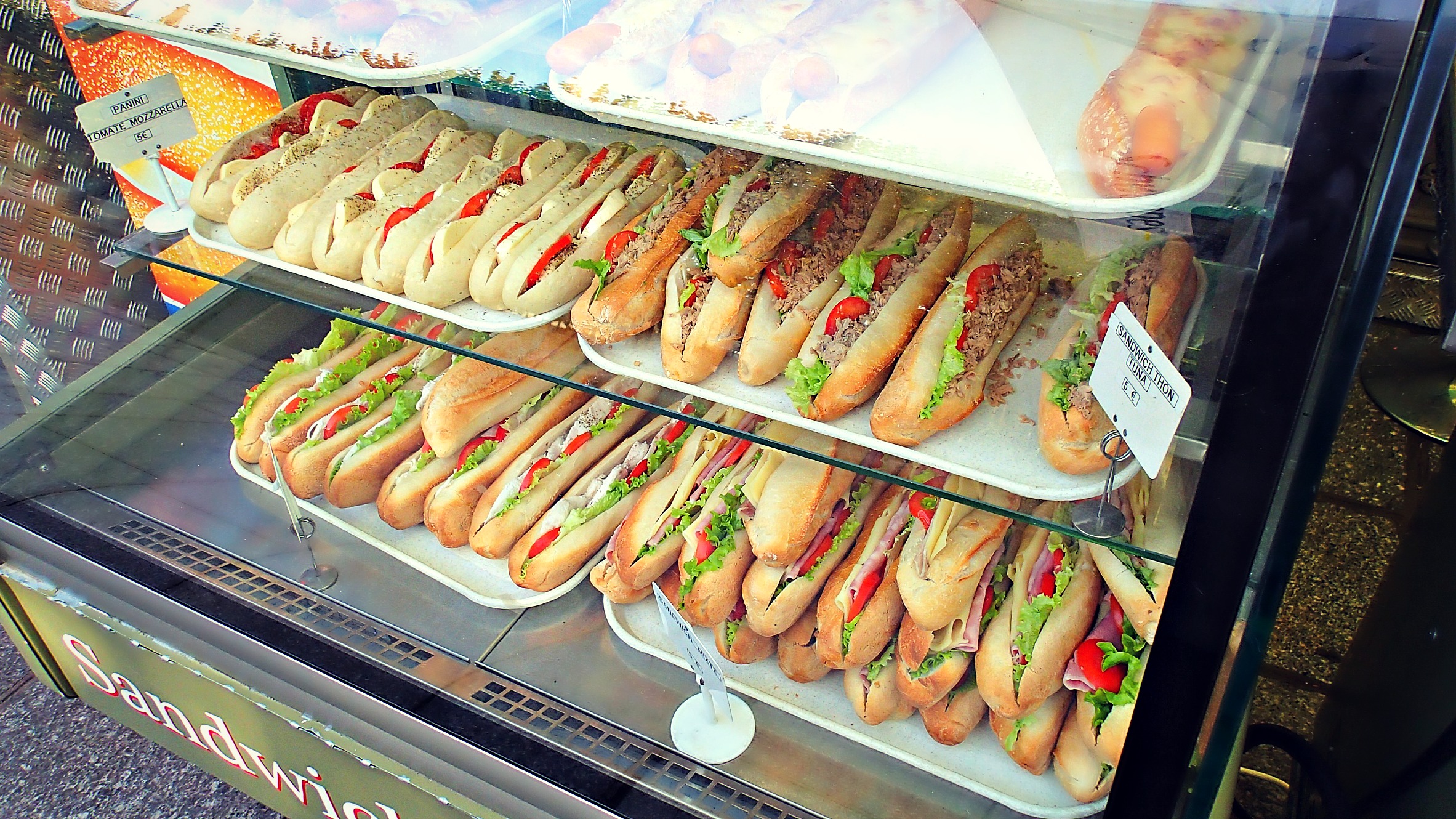 There are baguette style subs everywhere in Paris. I got one at the train station yesterday before I realized I was at the wrong station.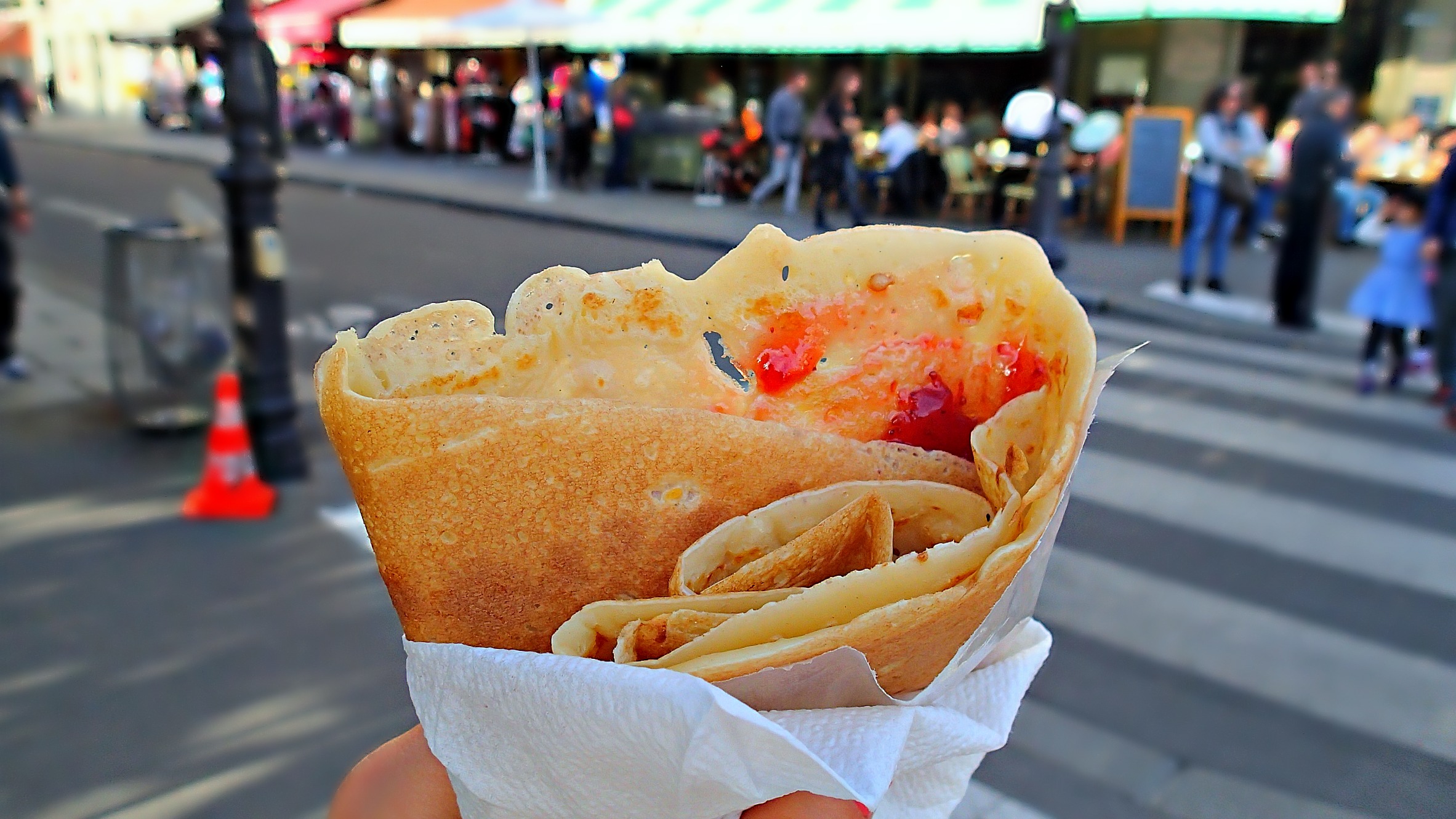 I wanted to sit down and enjoy my crepe, so I went off to find a good bench somewhere.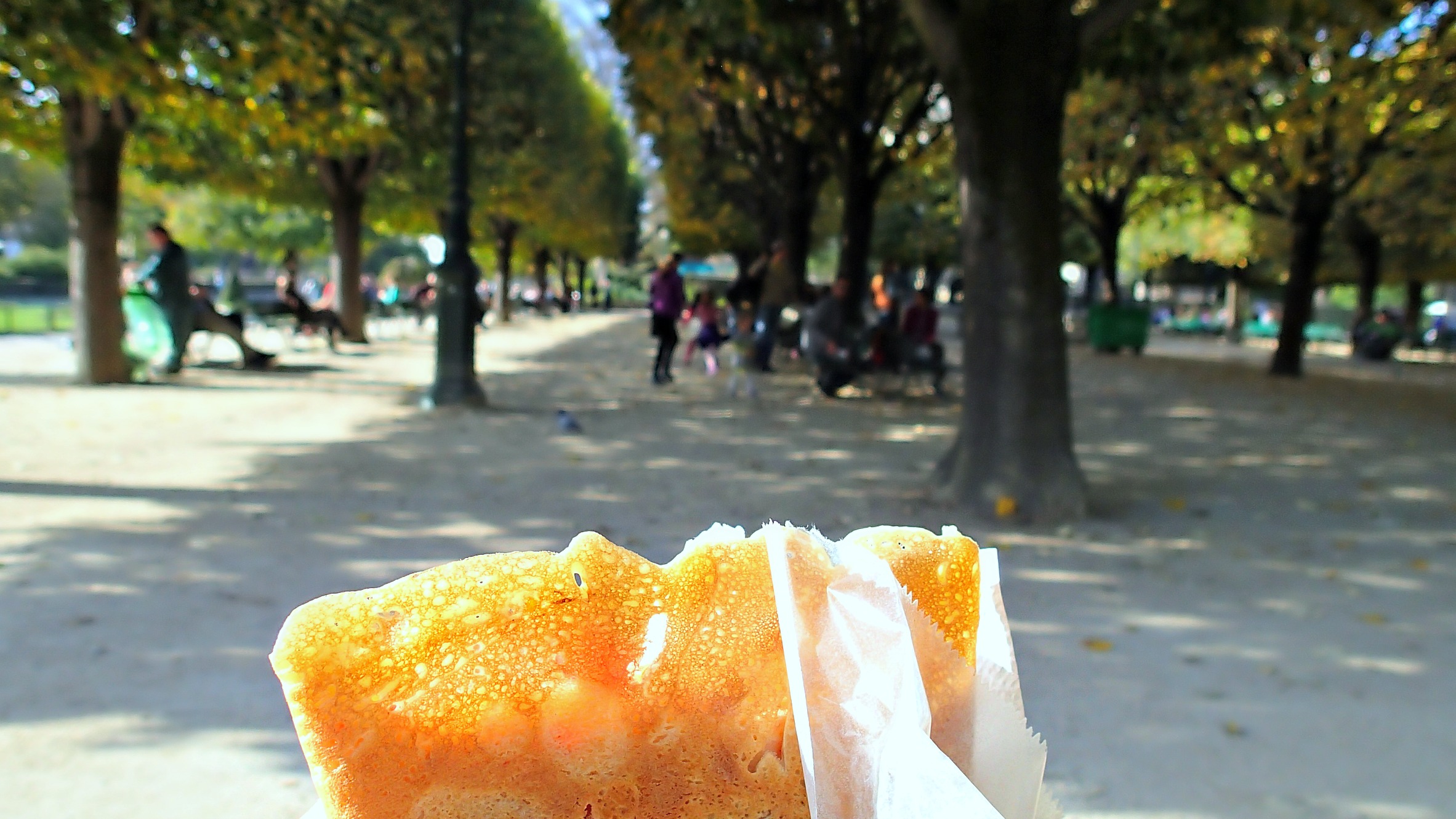 The park behind the Notre Dame Cathedral had an open bench with my name on it. I was ready for my first bite of a crepe. I had never had one before and everyone has been telling me to get one with Nutella and so I did.
I took my first bite.
YUM! It was still hot and the strawberry jam had melted with the Nutella and it oozed out of the bottom. I can't believe I have been missing out on these all of my life. I will be getting another crepe before I go. I know there are crepes in Charlotte, but I can't imagine they'd be this good!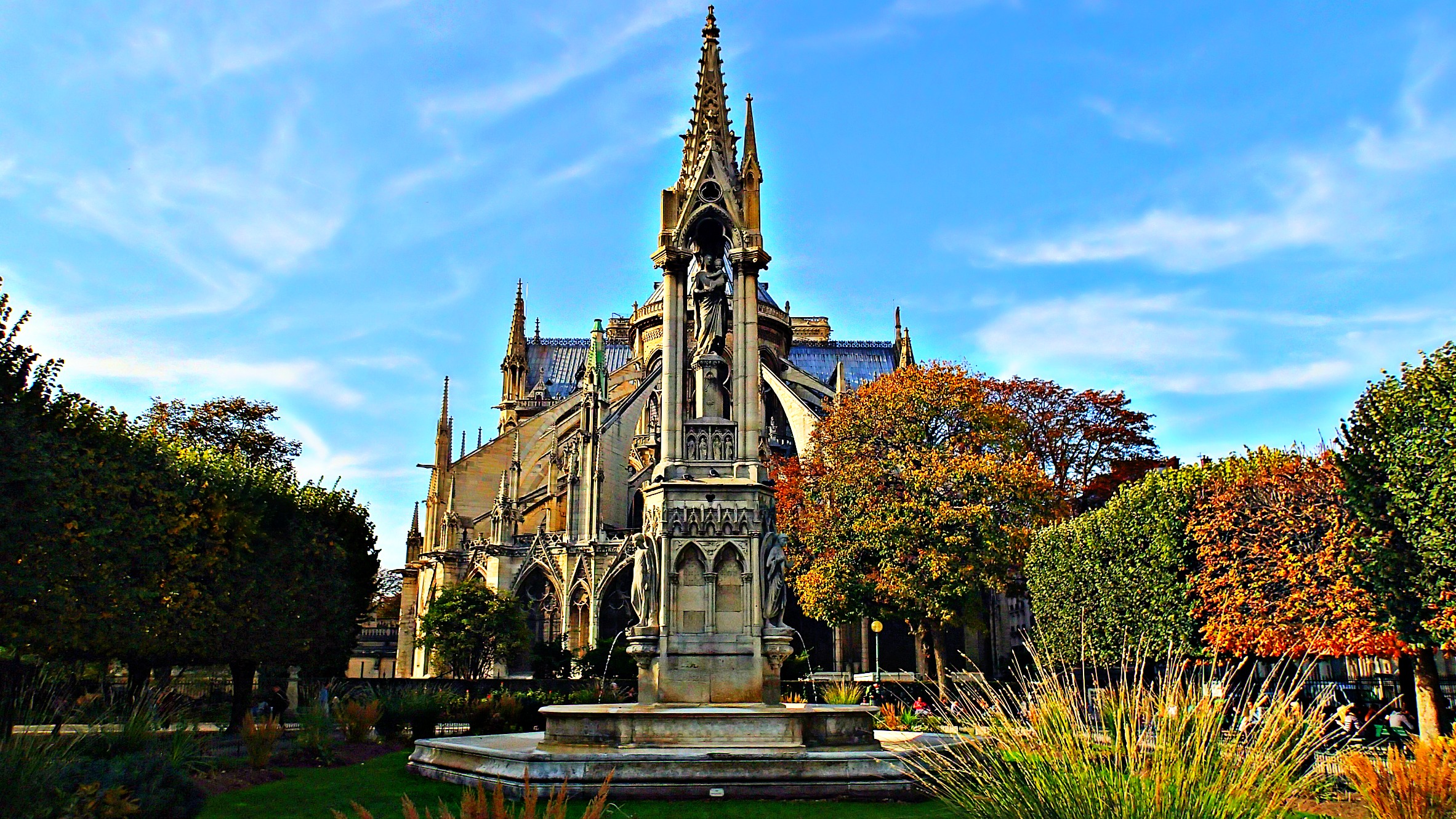 How gorgeous was the park behind the Notre Dame Cathedral?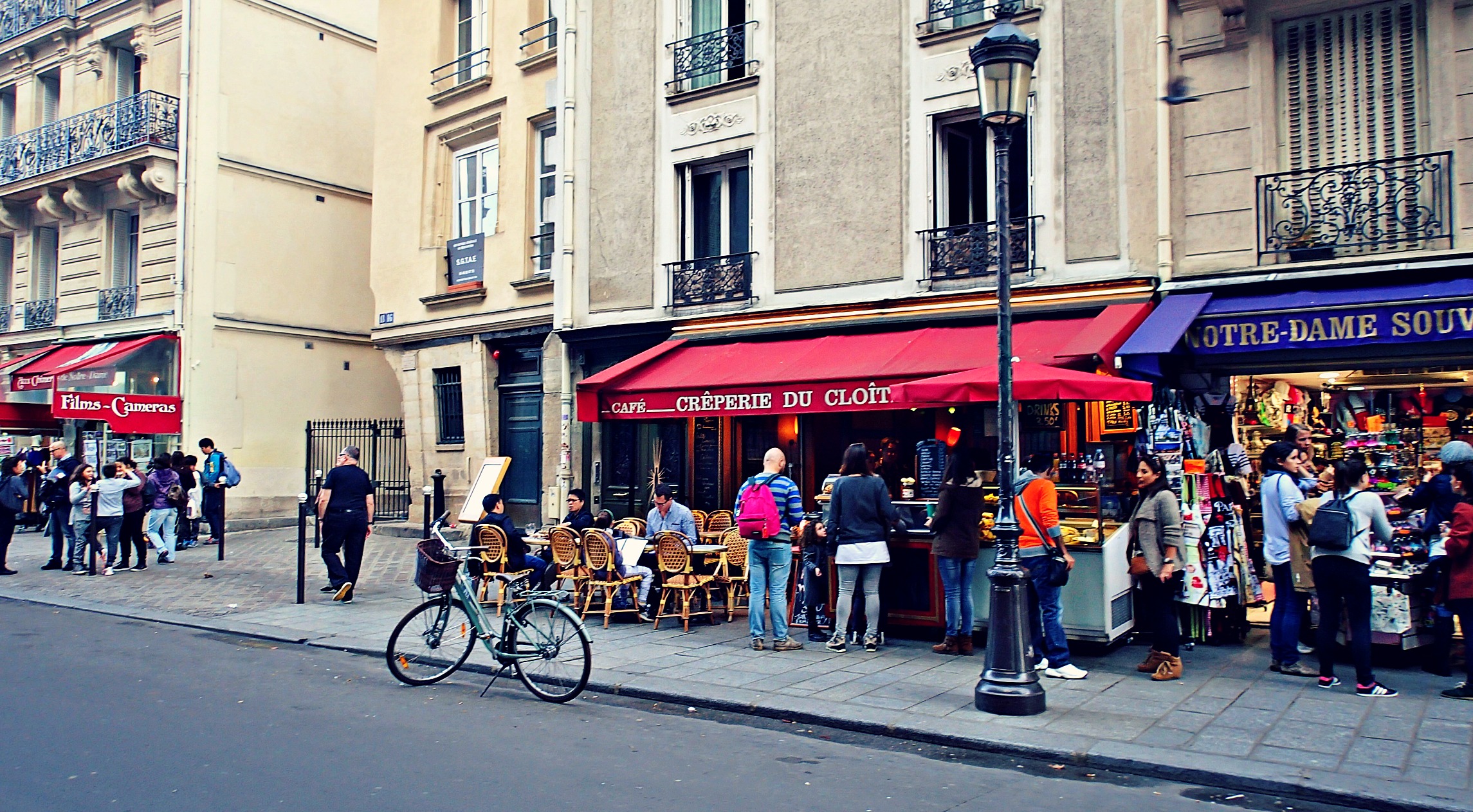 After enjoying my crepe, I took off to find the museum. (musée national d'art moderne.)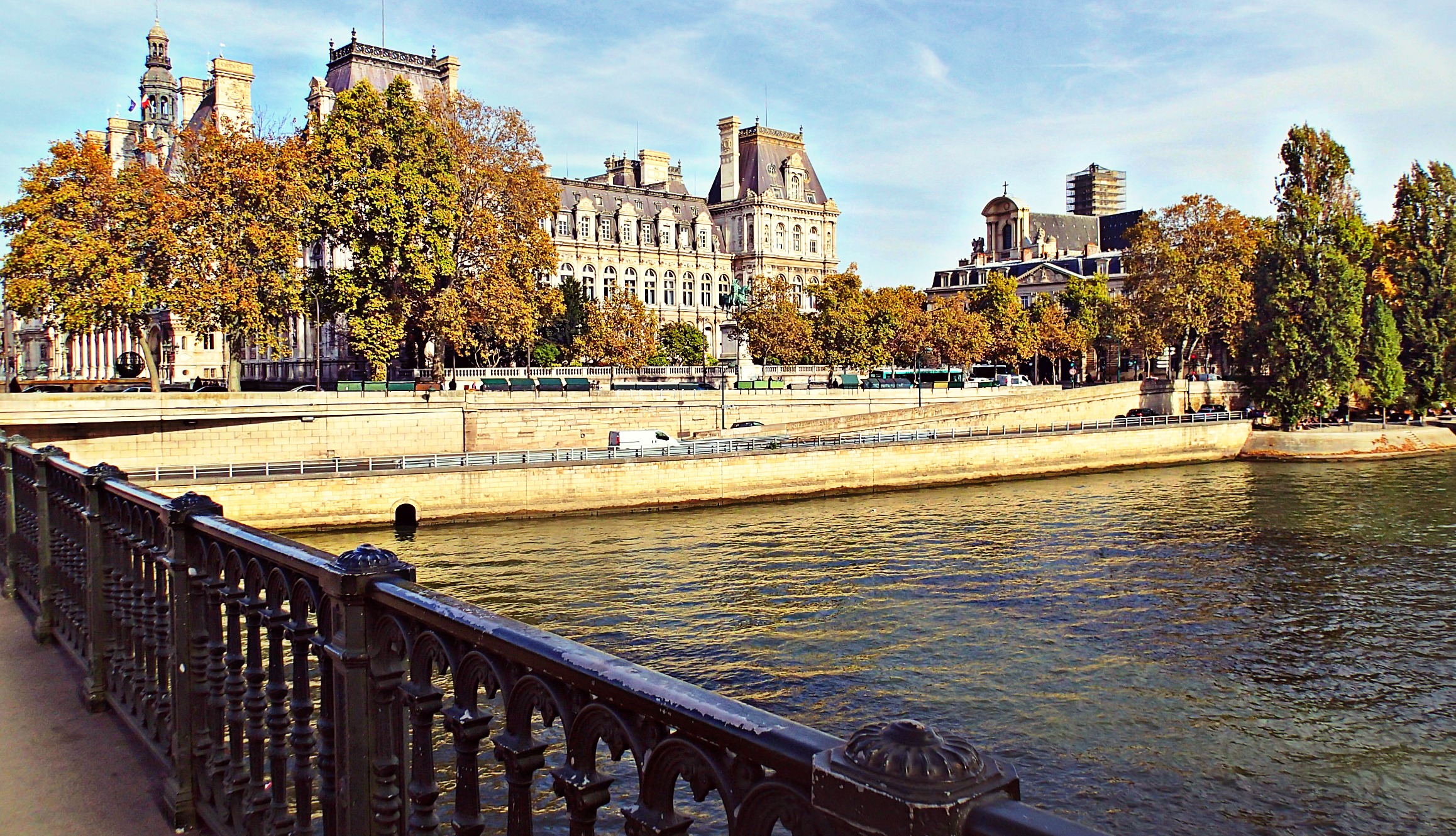 I went back across the river again! I was trying to follow my map to a tee and when I was the hotel de villa across the street, I knew I was on the right path.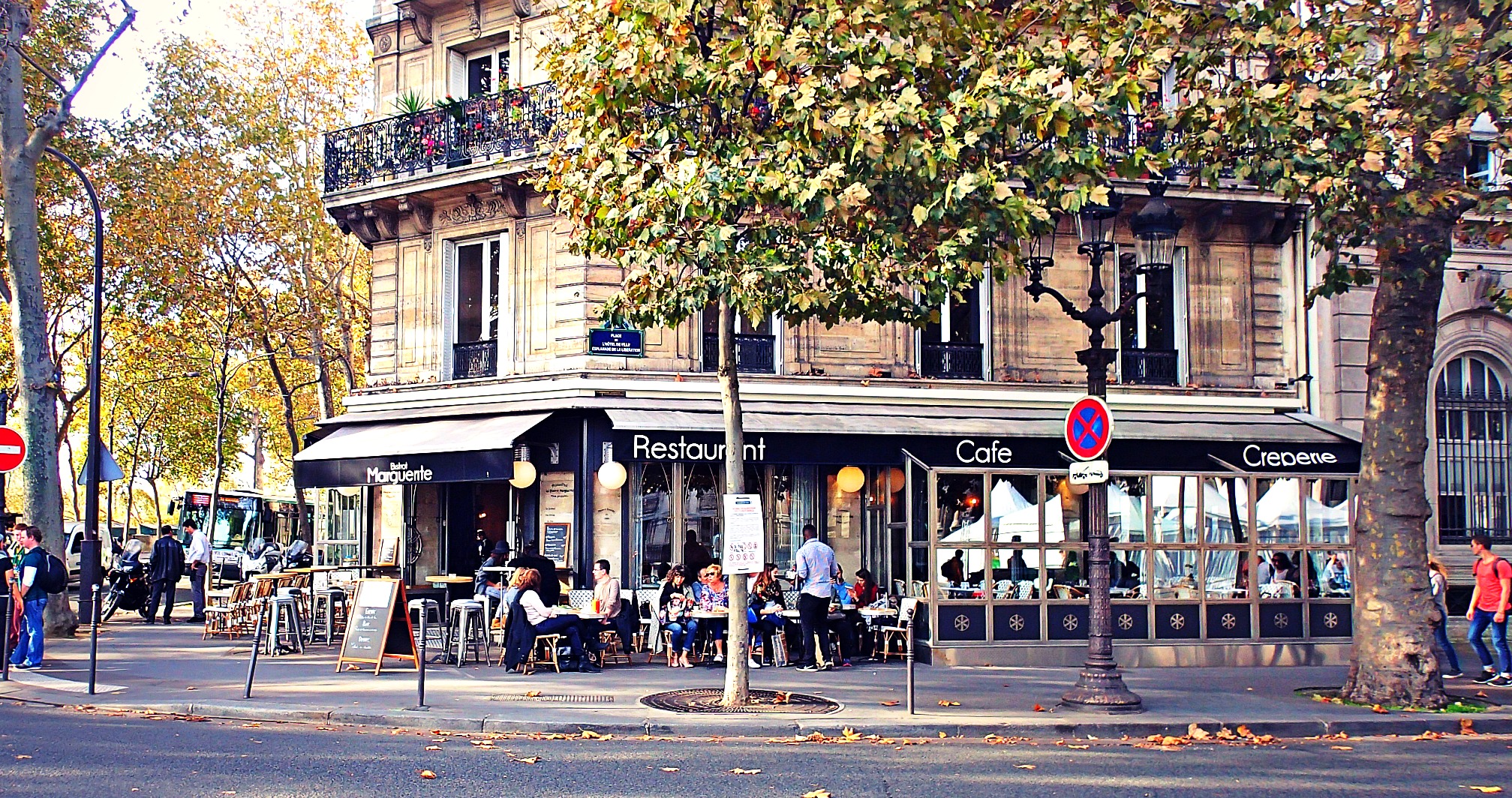 I took so many random photos of cafe's in Paris. I won't post them all because I'm sure you'd think I was crazy after the 100th one. I just love how quaint and inviting they are. I like living in Charlotte because we have a lot of outdoor restaurants like this. Of course we don't have jazz music, history in the streets, or tourist walking around.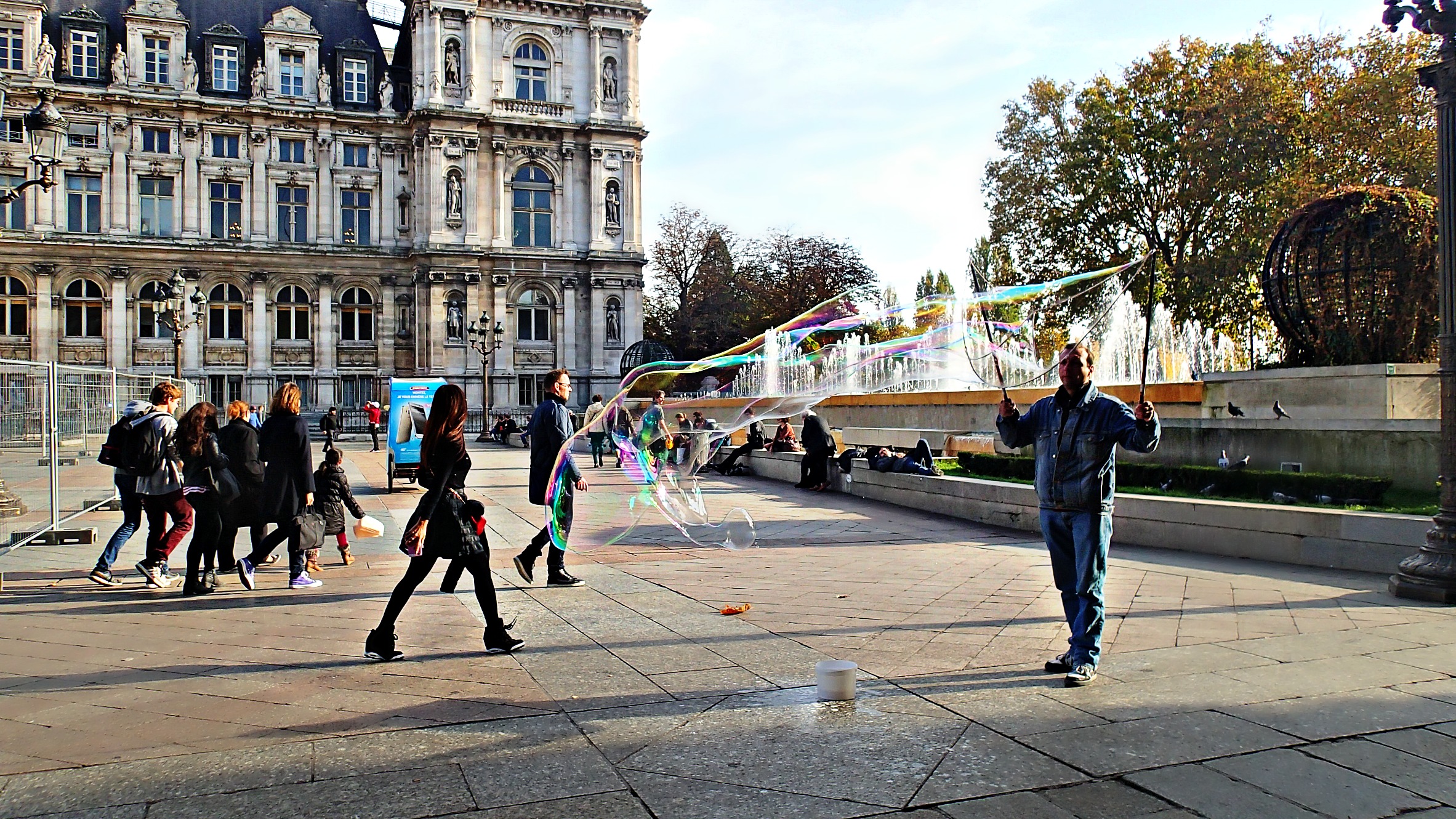 I have to give Paris some props for all of the cool street performers. Vegas has tacky ones, but Paris keeps it classy.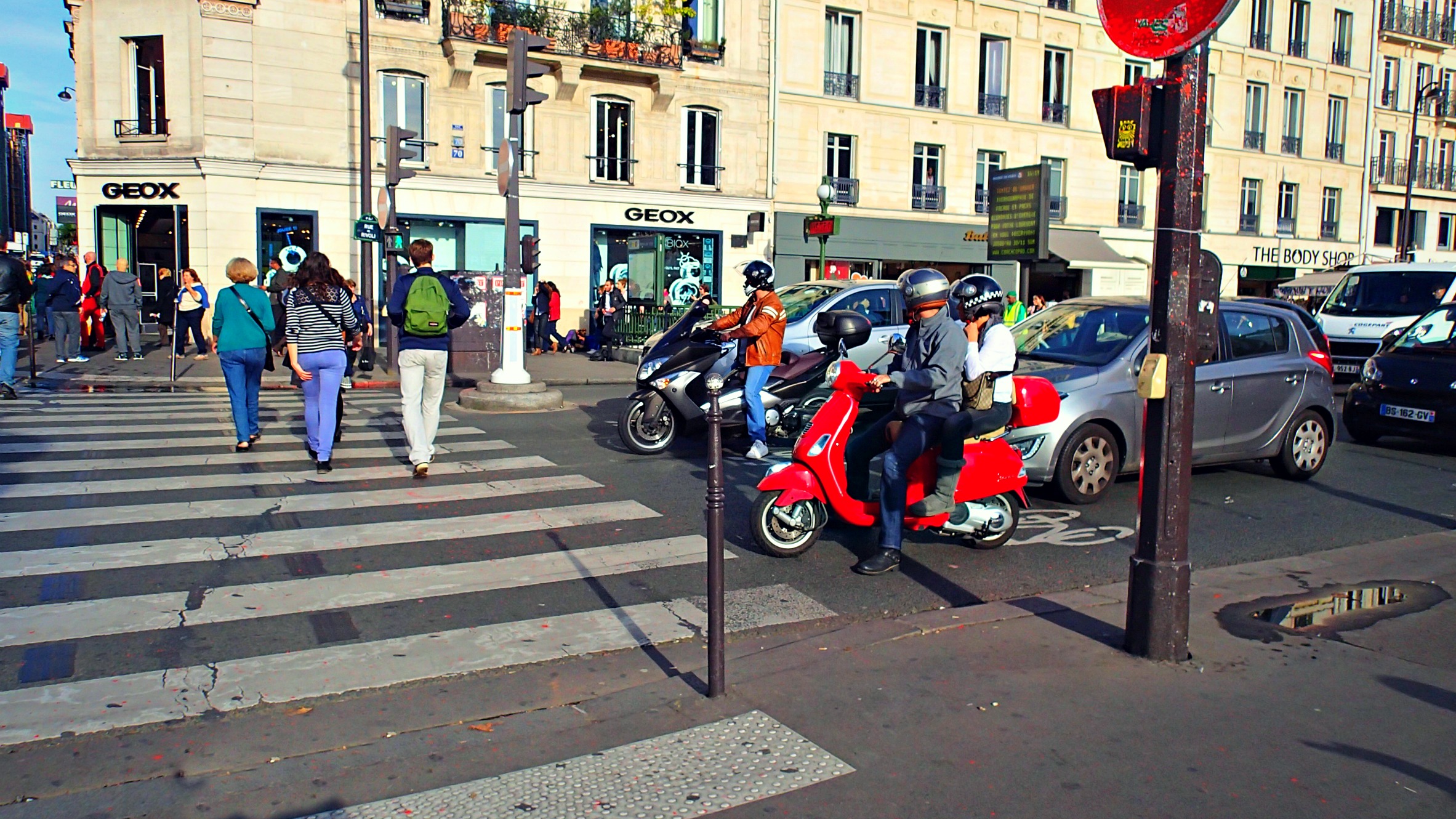 I wanted to go down some back ways instead of the main streets to get to the museum. I crossed over the main road and headed towards the museum.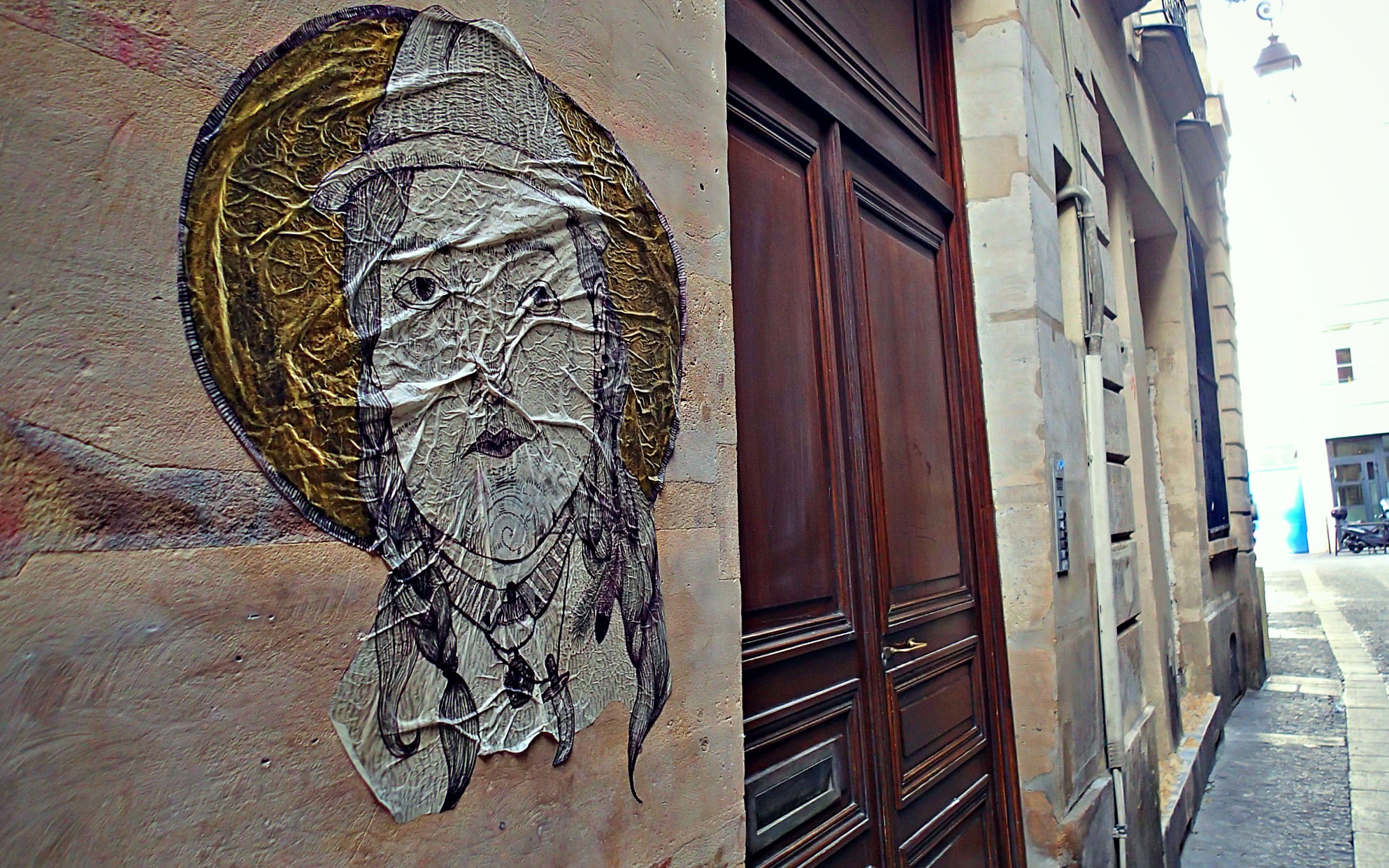 This was on one of the buildings in the back alley. It looks like an indian but I am not sure. I touched it and it was made out of tissue paper. You could literally peel it right off, not that I would.
I kept walking down this alley and on the first left turn, I found a coffee shop.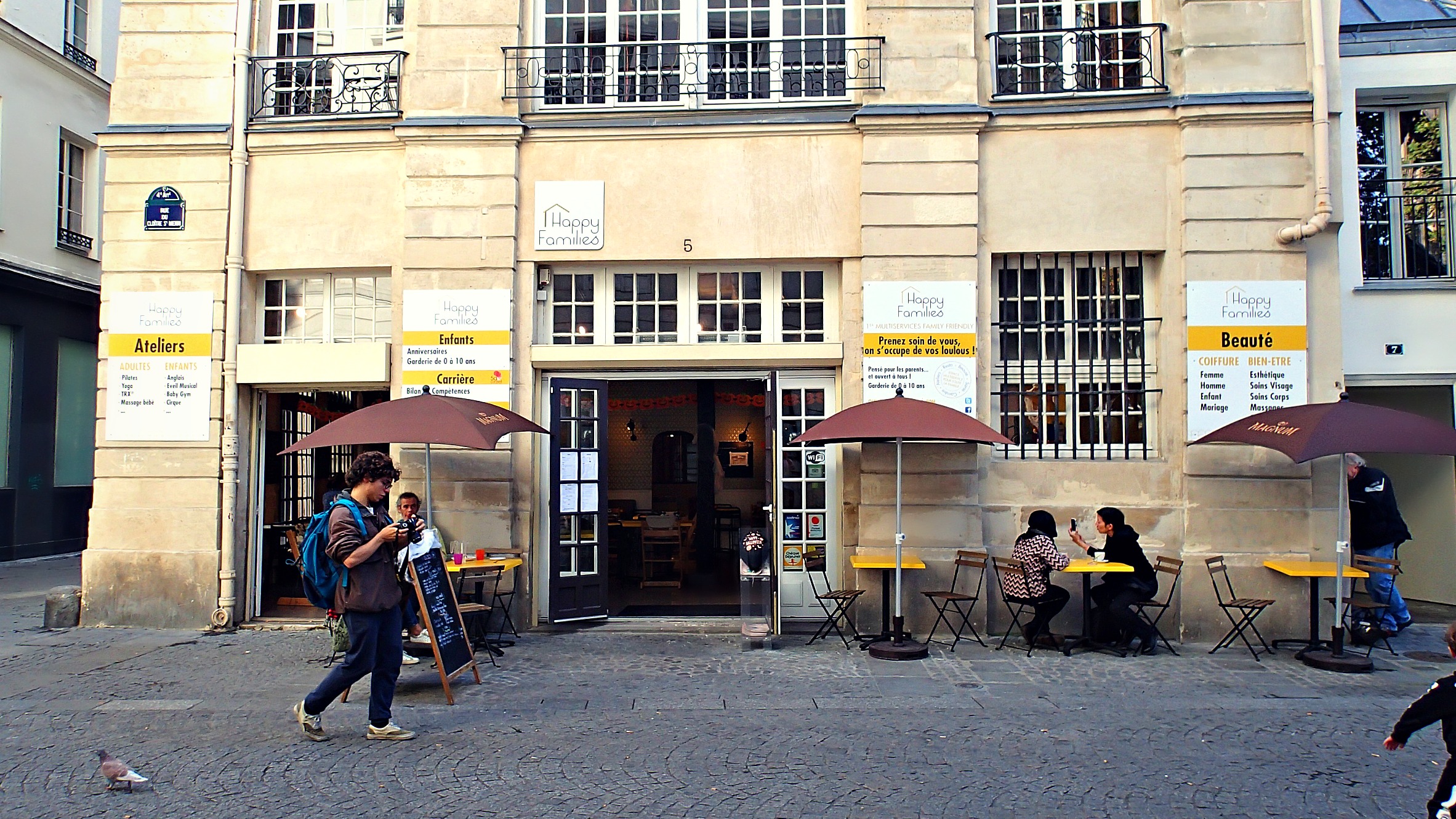 The coffee shop was right around the corner from the museum. I'm glad I took the back allies because I got there a lot faster. They were so friendly at the coffee shop. They helped me with my friend and I ordered an afternoon espresso.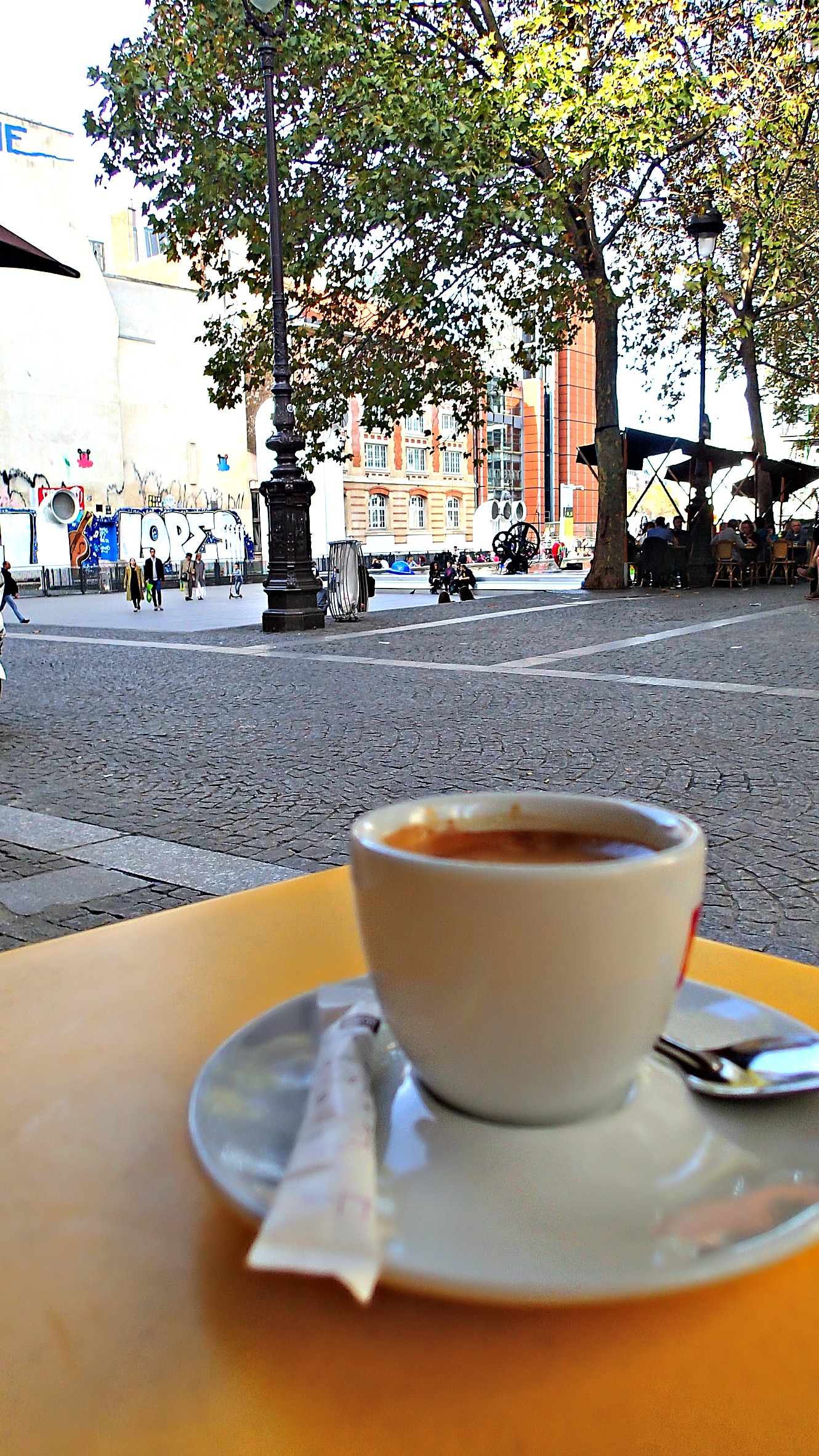 I decided to sit outside and read the map a little. I wasn't in a hurry for anything and I just wanted to enjoy my day. It was absolutely beautiful out.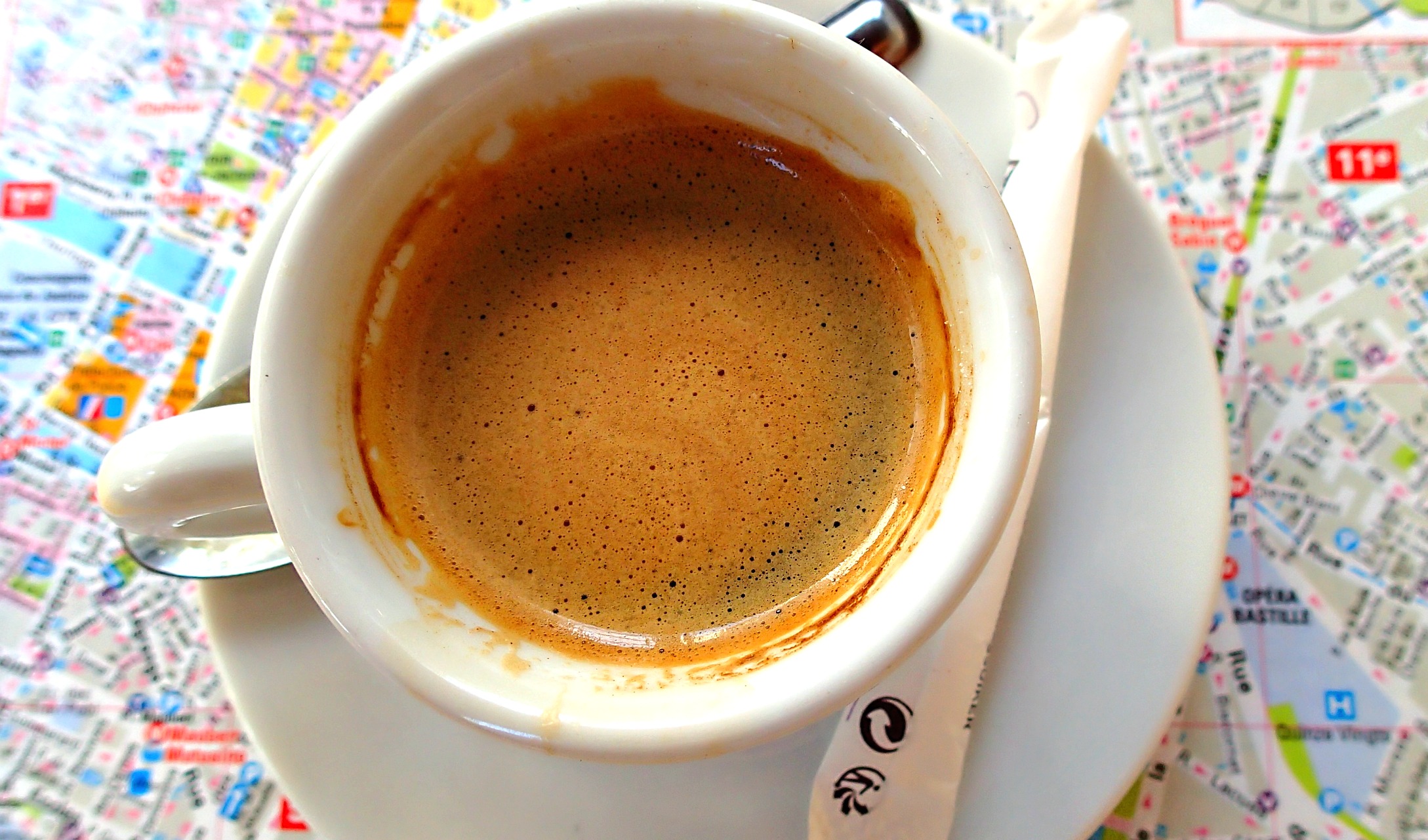 I have already gotten used to drinking little espressos without cream. In the states, customers are kind of rude and assertive when it comes to ordering. We want everything altered to fit our preference.  In Paris people just order whats on the menu, they don't ask for special treatment, and they don't make it too complicated. I'm going to take that back with me to the states. I'm known for always having the chef or barista alter my order. In Paris that would be considered rude, and I think it should be that way in the States too.
I had thirty minutes of pure entertainment from these two kids. They were playing in the streets and knocking each other, getting up to laugh, and doing it all over again.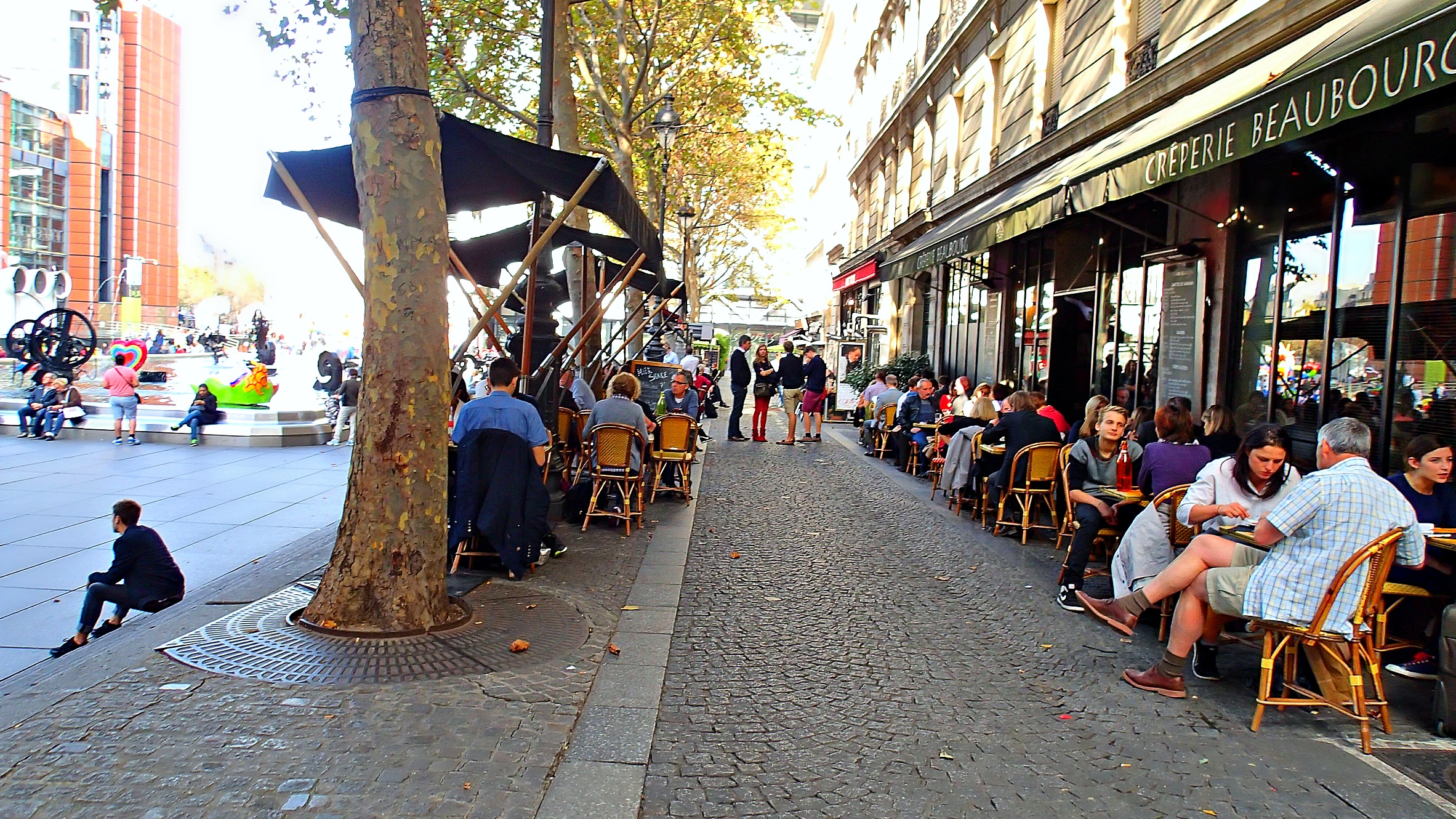 After my espresso, I headed to the museum. When you're in the area, you can't miss it. There is a huge open square where people sit. There is a fountain and little restaurants all around it.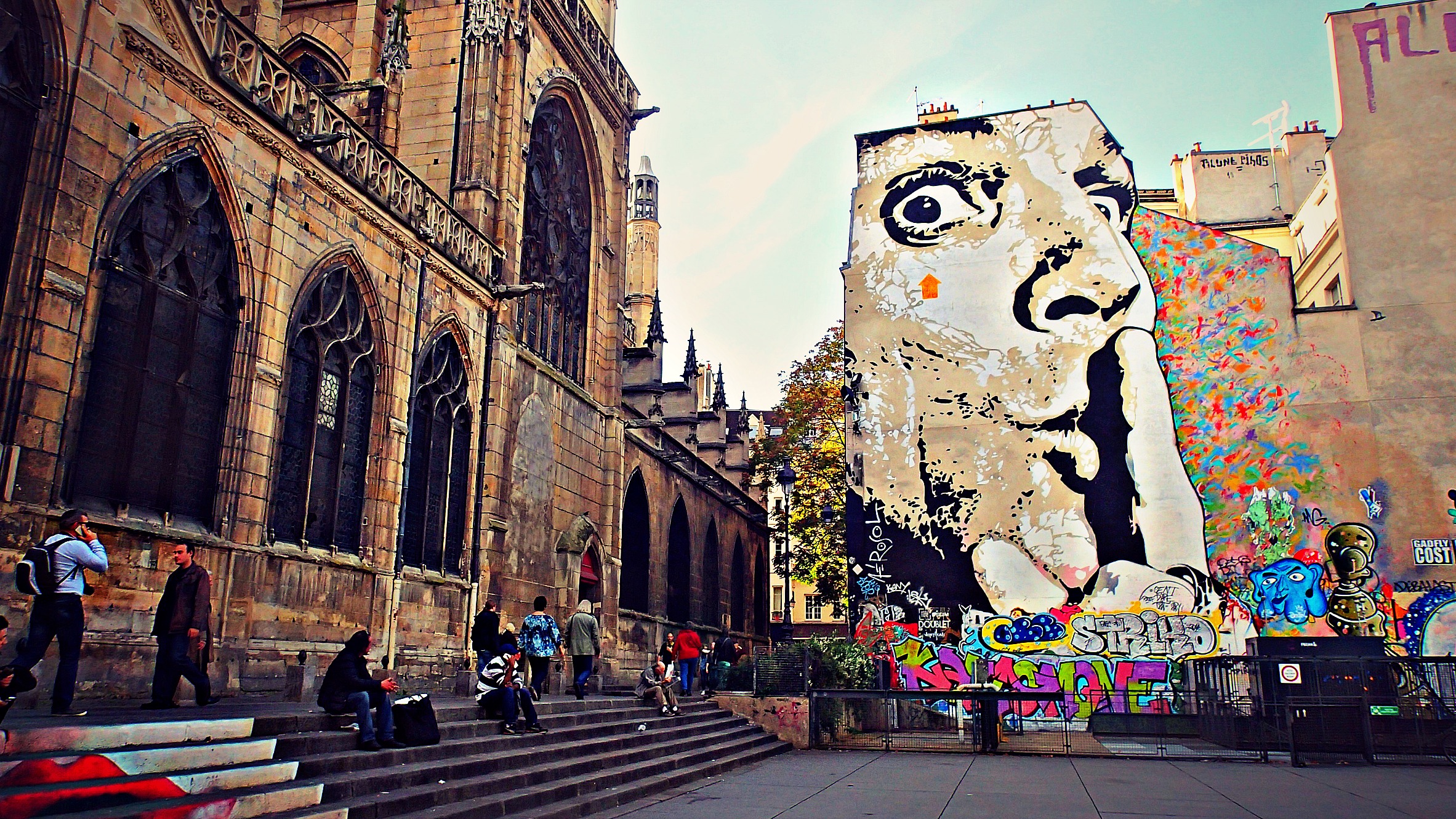 To be honest, I was shocked with the amount of graffiti there is in Paris. I thought Detroit was bad! You won't find a lot of it in the city unless it's from an artist, but when I was riding the train to Strasbourg, it was everywhere.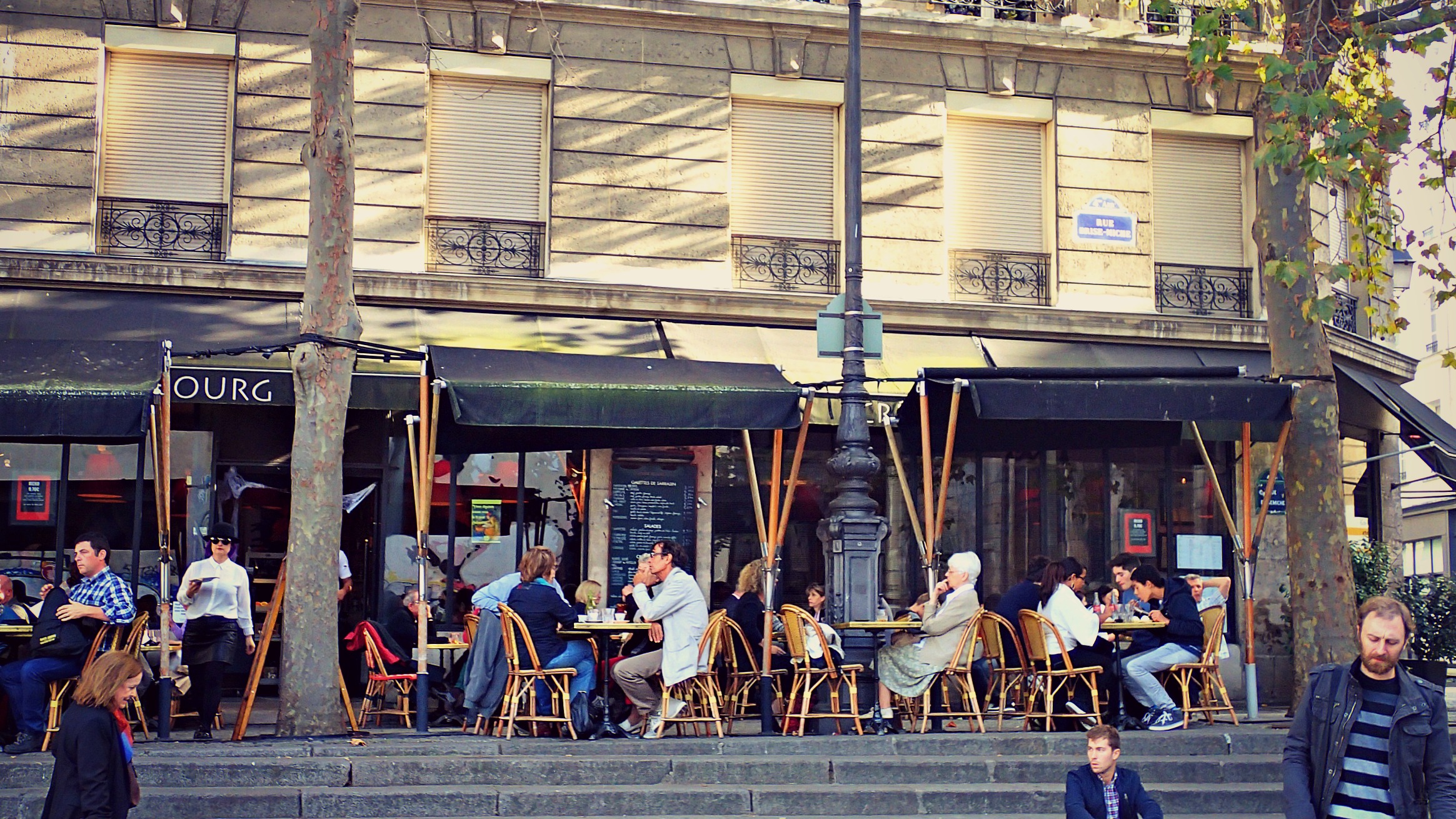 Sorry another restaurant photo, but I love them so much 🙂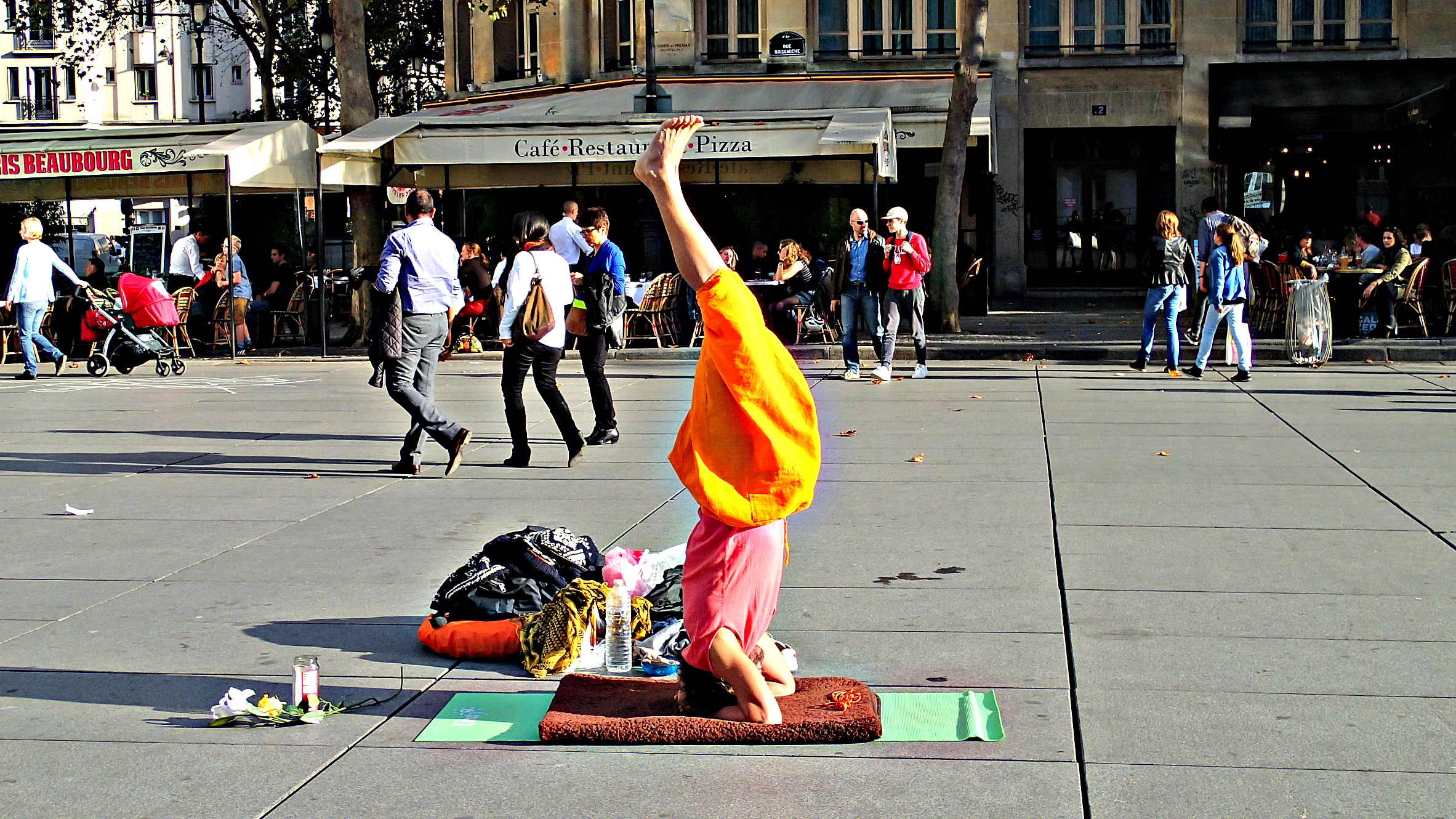 35 minutes. He was on his head for 35 minutes! I got tired of waiting around so who knows how long he was really there for. There were people sitting next to the fountain starring at him as if he were a movie. I'm no doctor, but that can't be good for you. There is a thing called blood circulation, bro!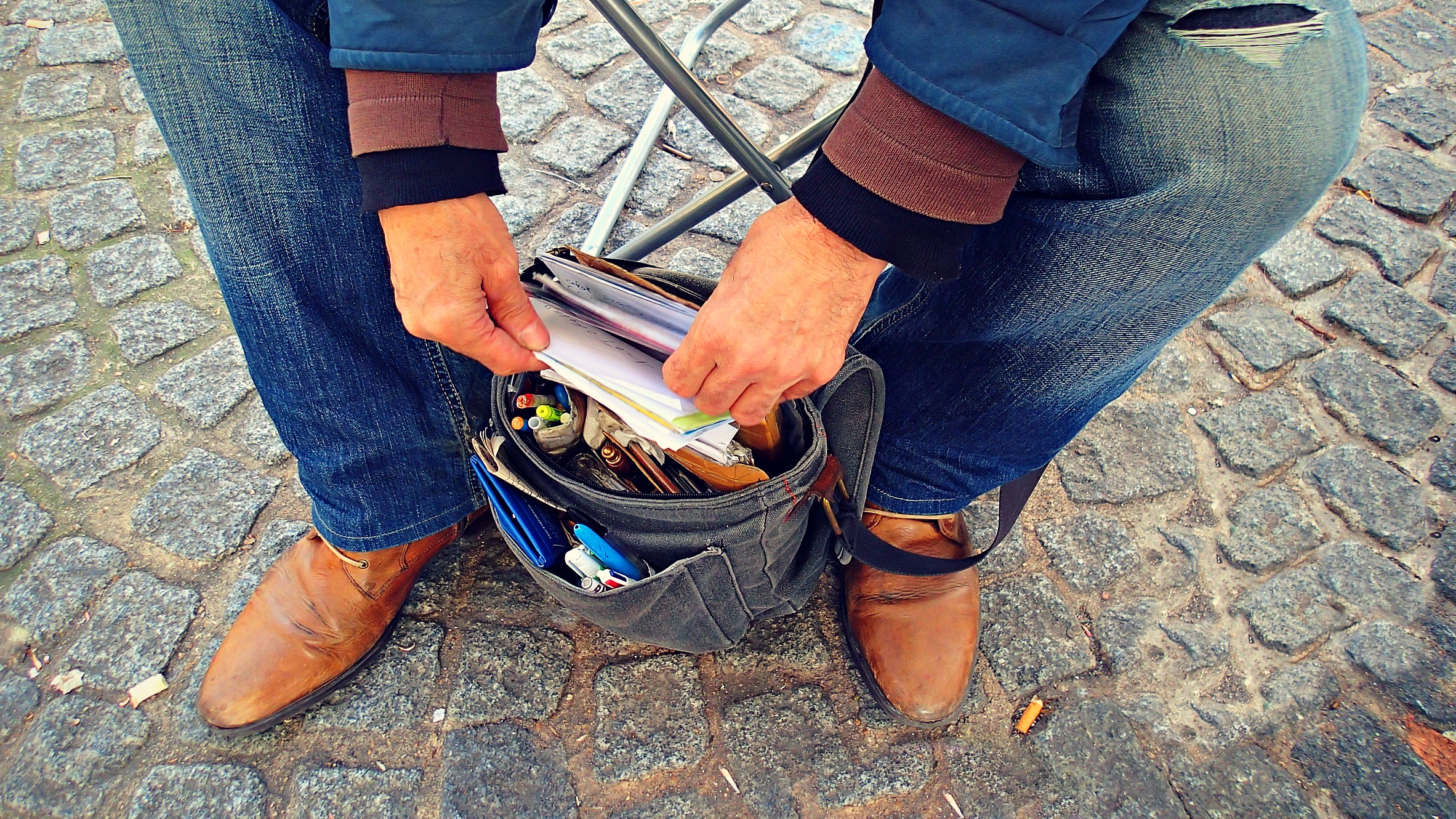 There were also artist around the museum. I ran into one guy and ended up having a long conversation with him.
He was telling me about his little exhibits he does, where to find his art, and all about his life. The cool thing about him is that he doesn't sell his artwork for money. He gives them to store owners to hang up around the city.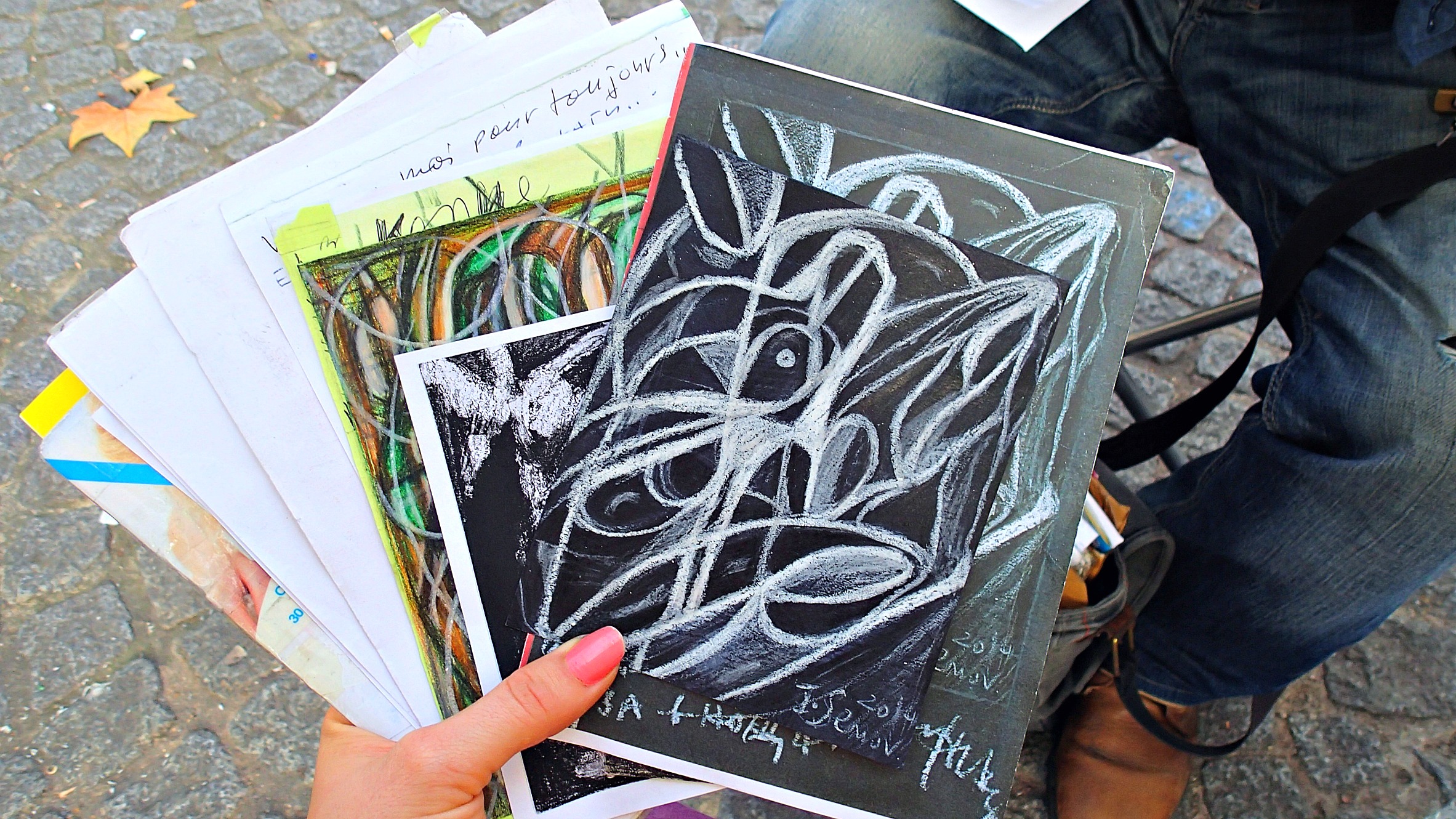 He let me go through some of his work. He's very talented.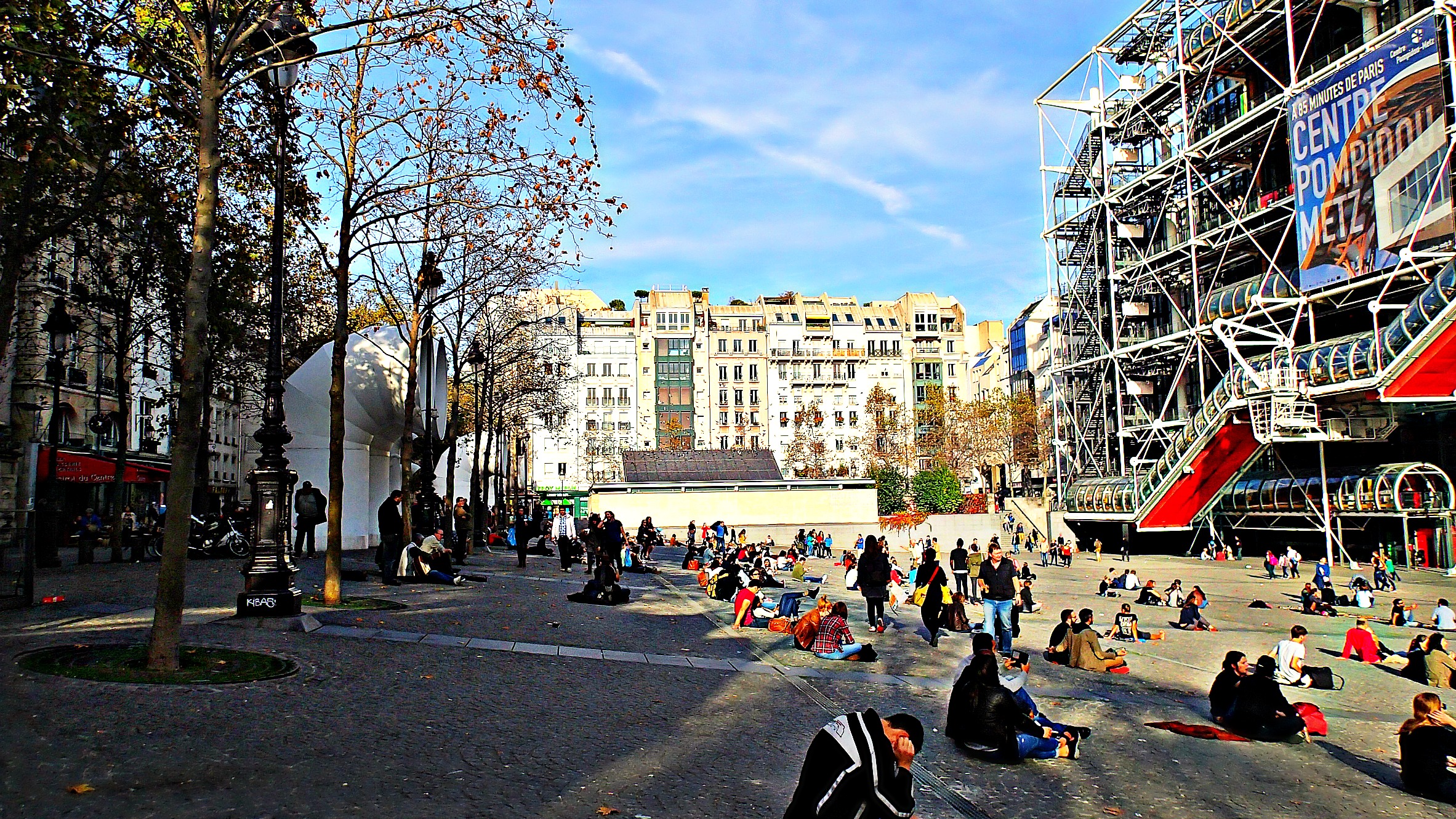 And guess what? There will be a part four! Not only will there be a part four, there are 20 more posts to do about my trip! I'm trying to get as much in as I can.
I'm off to bed so that I can pack up and prepare for my early departure to LYON in the morning. If you'd like to meet up for a day out, let me know!
-Taralynn